Resisting the Pull of the Same Old Same Old
---
This week, I wasn't feeling particularly creative as I wrote this post.
My instinct was to just fall back on the routine, to fill in the tried-and-true template. It's efficient. It's productive. The box is checked.
When you have trouble pushing the boundaries, it's easy to succumb to the pull of efficiency. Just look at the retail industry and the recent CEO picks at J.C. Penney, Target and Gap. The companies grew, they lost their mojo and now they're turning into well-oiled machines to stay viable.
And so it goes with most of us. We grow, we lose our mojo and then we strive for efficiency and productivity. Do more with less.
There's no denying it's important to be productive and efficient. But wouldn't we be more fulfilled (and ultimately, more successful over the long haul) if we could stay creative and cutting-edge despite the pull to just do more of the same, faster?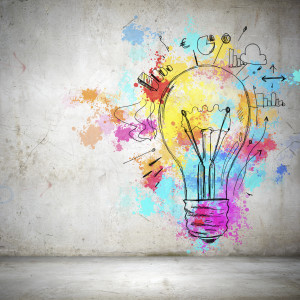 Last week I heard an interview with the musician David Gray, who talked about the process of creating a new album on the heels of several decades of popularity. He spoke about the agonizing creative process to make sure he wasn't just recycling the music that has made him popular in the past.
A quote on his website captures the spirit of that interview:
His [producer Andy Barlow's] brief was – don't let me make the same record I've made before, take me out of my comfort zone…It was a tortured process because I found it so hard to take at times that he would tear up bits of my work in front of my eyes!
As I considered my own slide toward repeating myself and recycling my old ways and past successes—my stories, my methods, my ideas in this blog!—I was inspired by his example: "I think if you're going forward with an open heart, good things will happen," he says. "You have to sort of tear up the past and let it go."
Here are three simple ideas I picked up from the interview:
Diversify the players. David Gray hired a new band and producer so even his past hits would sound unique through a new filter. You and I need to constantly seek out different people to work on projects, read new authors, find different podcasts and visit new places.
Put the auto-pilot on pause. David Gray took four years between his last two albums to gain perspective and generate new ideas. Wouldn't that be nice? Maybe for you and me it's four hours during a workday. "Oh, I'm too busy," you say. Yeah, too busy recycling the same approaches to your day.
Find your muse. David Gray goes for long walks. I like to read books and seek out deep conversations with close friends. What stimulates new ideas and perspectives for you?
While it might be uncomfortable at times (hopefully not a "tortured process"!), I am making a commitment to resist the pull of the same old, same old, to keep pushing the boundaries and reaching for something new.
Because as David Gray points out, that's where "something far more interesting" happens.
Where are you most at risk of recycling your approaches and falling back on the same old, same old? How might pushing the boundaries change things?
Comments
comments