Why You Should Do That Totally Crazy Thing
---
Perhaps you've heard about the historic feat climber Alex Honnold accomplished on June 3rd. He became the first person in history to free solo climb (by himself with no ropes or equipment) El Capitan in Yosemite, which is a 3,000-foot vertical wall up the Freerider path. He did it in under four hours.
Mind-blowing.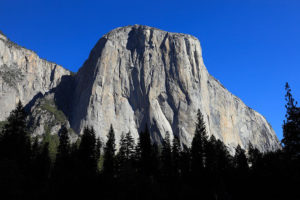 I can't even fathom being halfway up at the two-hour mark looking down a 1,500-foot straight drop and having nothing to hold me. It's considered the greatest ever feat in climbing. At times, he held on only by his fingertips while his feet dangled freely.
Here's what Honnold said after he finished:
Years ago, when I first mentally mapped out what it would mean to free solo Freerider, there were half a dozen of pitches where I was like, 'Oh that's a scary move and that's a really scary sequence, and that little slab, and that traverse.' There were so many little sections where I thought 'Ughh – cringe.' But in the years since, I've pushed my comfort zone and made it bigger and bigger until these objectives that seemed totally crazy eventually fell within the realm of the possible.
What seems totally crazy to you right now?
Ten years ago, these things seemed totally crazy to me:
Speaking to large audiences
Owning a company
Appearing weak
Twenty years ago, these things seemed totally crazy to me:
Getting married
Having kids
Working in a sales role
Thirty years ago, these things seemed totally crazy to me:
Roller coasters
Being uncool
Romance
And here's what seems totally crazy to me today:
Raising adolescents
Writing a book
Being without my phone
Free solo climbing El Capitan seems totally crazy to me today, and you'd better believe it will still seem crazy in ten years. But some of those totally crazy things on my list right now represent pitches, sequences, slabs and traverses that I will need to get over if I'm going to accomplish great feats in the next ten years.
Climbing into the Realm of the Possible
So, what's the best and fastest way to bring the totally crazy within the realm of the possible?
As Dale Carnegie famously said, "Do the thing you fear to do and keep doing it…that is the quickest and surest way ever yet discovered to conquer fear."
Fear is an emotion that doesn't have to stop action. Make the choice to accept an invitation, sign up, raise your hand, volunteer or try it out. And then say "yes" again and again until, bit by bit, the crazy is possible.
You and I, we were made to accomplish great feats. For some it's a free solo climb, for others it's a choir solo. May we continue to push the boundaries of our comfort zones, to do what's scary and to help each other to do it!
Comments
comments