You Might Be Missing a Huge (Virtual) Opportunity
---
Leaders today have greater access to resources and support than at any other time. Think about it: You no longer have to physically be in the same place as the people, expertise or material that can help you on your journey. Armed with just a wifi connection and a device, you can tap into a huge wealth of information, insight and encouragement.
That's good news, because the latest research suggests that resource networks are a critical factor for helping leaders to thrive today. And virtual networks allow for more diverse contribution, easier access and just-in-time answers. Even better, you don't have to wait to find the one that's right for you; you can build it. Don't resign yourself to not having time or knowing how!
As a recent guest presenter at #TChat, a weekly online event hosted by TalentCulture, I had a unique vantage point on what it takes to make a virtual resource network successful. TalentCulture mobilized an army of evangelists, contributors and promoters in just a week, and their recipe for success contains key ingredients that anyone looking to build a thriving virtual network can follow to ensure their own success.
Here are the six intentional activities the TalentCulture community engages in every week.
1. Curate disruptive perspectives. It's immediately apparent that TalentCulture searches for new insights and cutting edge ideas to discuss in their group. They remain focused on their core audience while varying the content widely with challenging points-of-view.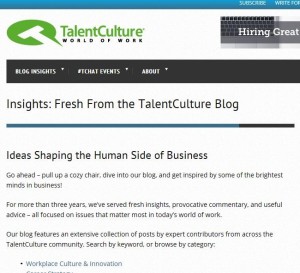 2. Preview what's to come. Content-rich "commercials" should be distributed to the group to entice their involvement. This allows people to evaluate whether or not the community or event is worth their time. Tools like Zoom and Google+ Hangouts make it easy to record and share a virtual interview of guests or facilitators to give people a tangible preview of the community.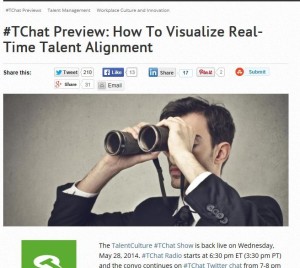 3. Unleash social chatter. Prior to virtual meetings and events, TalentCulture constantly (and appropriately) distributes links to articles and blogs from their speakers to build excitement and credibility. The most active community members are also frequently posting links referencing the week's guests and reminding their networks of the event.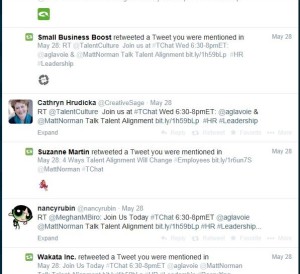 4. Keep it human. The energy that gets the flywheel turning in a virtual community is a live event. TalentCulture does this with a 30-minute podcast/teleconference where the hosts, Meghan and Kevin, exchange friendly banter with guests and then launch a live dialogue for the community using Twitter. Human beings need the chance to hear voices, see faces and connect live to build trust and community.
5. Have awesome facilitators. As the facilitators of the online community, Meghan and Kevin watch the trajectory of the virtual chatter and periodically injects thought-provoking questions. By affirming contributions and encouraging retweets and responses, an awesome facilitator also creates an environment where everyone wants to participate.
6. Promote relentlessly. Following every event, the TalentCulture team distributes images showing participant contributions. And they use Storify to create and publicize a summary slideshow of all of the meeting's virtual contributions.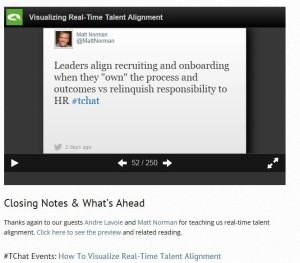 Whether you're creating a community from scratch, augmenting a live community with virtual connections or struggling to maintain interest in your virtual community, these are all great tactics for bringing energy and life into your group.
And now to you: What comes to mind when you read these ideas? How could virtual communities be a greater resource for you and your organization?
Comments
comments