Three Laws of Email Guaranteed to Boost Your Productivity
---
Chances are, your email owns you.
It's open on your computer as you read this, or it's an app away on your device.
Your inbox is an endless fountain of opportunity—and challenge. Because it doesn't matter whether you fight to control it or resign to the flood; either way it owns you. Its constant flow is rewiring us from human beings into human doings.
But it doesn't have to be this way.
Don't be a victim. Don't perpetuate the flood. If you want to take back ownership of you, live by these three laws of email:
Decide once what to do with it. Productivity guru Bob Pozen highlights my absolute favorite rule in managing email – OHIO: Only Handle It Once. When you leave messages in your inbox and return later to reconsider when and how to respond, you're spending mindshare and usually wasting time.  While it's true that some messages require time to consider how to appropriately respond, you should almost always decide to implement one of the following four Ds:

Do: Respond, file or take action, which may include unsubscribing from a list.
Deadline: Add a task or event to an appropriately prioritized plan.
Delete: Get rid of it.
Delegate: Discuss with someone else how they can "Do" instead of you.

I'm following Rule #1, and this is my current inbox: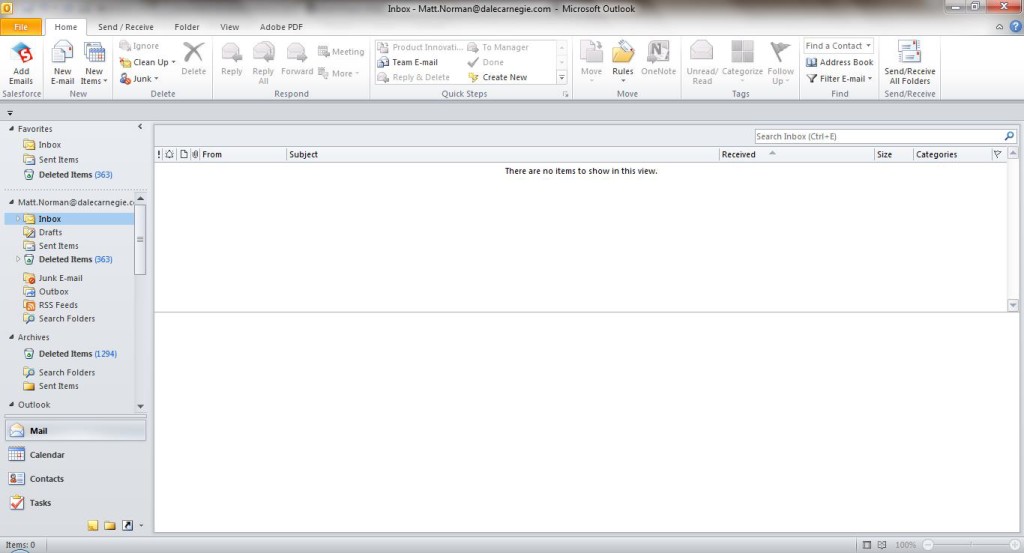 Force yourself to limit. For Lent this year I removed all email (and Facebook) accounts from my phone. It. Has. Been. Freeing. I grab my phone from my nightstand only to realize that I'll have to read a book…or think.  I instinctively pick up my phone at stoplights only to remember that it's not an option. No email on the sidelines of youth sports events. No email while I'm walking through the airport. No email in waiting rooms. No email while I'm going to the bathroom. No email during dinner. No damn email where email shouldn't be!
Send emails that are easy. Please don't send people emails that are longer than 125 words or take more than 30 seconds to read. Please don't write paragraphs with more than three sentences. Use bullet points, and make your sentences short and simple. Re-read your email to minimize grammar errors.  Avoid putting multiple people in the "To" line so that no one knows who should respond. Don't make me read more than one or two previous messages in a thread. And most importantly, don't end your email with "Thoughts?" (or any derivation of that painful, open-ended question that makes irrefutable law #1 more difficult). Sign the email charter, and stop contributing to the flood.
Want to be a more productive human being? Use email when necessary, use it wisely and follow the rules.
How are you managing the flood?
Comments
comments