Rowing Through the Storms: An Open Letter to My Team
---
Rowing is perhaps the toughest of sports. Once the race starts, there are no time-outs, no substitutions. It calls upon the limits of human endurance. The coach must therefore impart the secrets of the special kind of endurance that comes from mind, heart, and body.
-George Yeoman Pocock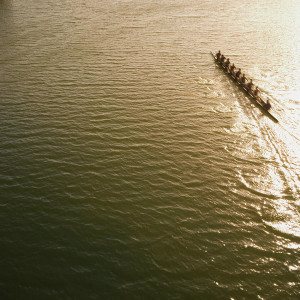 Our family was on spring "break" this week — our annual pilgrimage to visit the grandparents in Florida. On the flight there, I had dreamt of rest, relaxation, togetherness and fun. Well, we got togetherness with episodes of fun. The rest and relaxation were in short supply.
We had several timeouts and substitutions while we were there. Our kids had timeouts for throwing sand at the other person and for emotional meltdowns. We had substitutions when I would hand the crying baby to my wife at 3 am to nurse her back to sleep. Two days before we returned home, I had a splitting headache and was angry that I hadn't had more time to read, take long walks and sleep.
And then I thought about the book The Boys in the Boat and realized that the most direct path to joy is through the endurance of discomfort.
The Boys in the Boat tells the true story of poor working-class kids who rowed to beat Germany in the 1936 Olympics. In 1930s America, rowing was as popular as football or baseball are today. Hundreds of boys competed intensely for few spots. Practices were long and difficult regardless of the weather. When practice ended, school work started. And on weekends, most of the boys returned home to help their families with endless manual labor as they battled the Great Depression. Just like in their actual races, they couldn't pause the effort or call in a substitution.
I've thought about this book in relationship to our work as well.
Despite our success as a team, most of us are tired and wishing success came easier. Those of you who have had recent personal success are being asked to keep performing at a higher level, stay emotionally engaged and support other team members while you're doing it. Others of you are struggling with confidence, frustration and the perplexity of what it takes to win. Everyone who has been on the team for any amount of time knows that we rarely rest. It's grueling work.
And it's noble work. People pay us to help them be better. We create sustainable value for our clients when we help them endure through the discomfort of their challenges to perform at a higher level and engage more effectively with one another. It's our job to develop the next gold medal winning crews.
I hope we all win gold medals. But the trip will be much more uncomfortable than we want it to be. We will only have fleeting glimpses of timeouts and will rarely get a substitution. If we embrace the discomfort, it will lead to a far greater joy than the momentary reprieve of stopping or asking someone else to do the work for us.
So here's the question we all have to keep asking ourselves:
How will you embrace the discomfort that comes from not getting to call a timeout or make a substitution?
Comments
comments