Letting Go of the Shoulds
---
A friend told me a couple of months ago that I was "shoulding on myself". It occurs to me that I live with voices in my head that bombard me with shoulds, need tos, have tos and what ifs. While a healthy respect for rules, constraints and expectations helps to guide behavior, sometimes I just need to loosen my grip on life.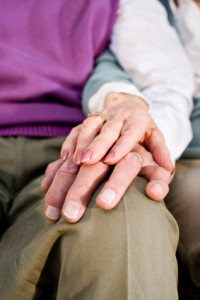 Recently I was racing down the freeway, making work calls, when I felt an urge to call my grandparents. I asked, "Grandma, what are you guys up to?" She replied, "Matt, we just finished dinner and now Grandpa and I are sitting on the couch watching baseball and holding hands." I said, "Really?" I was overwhelmed with the simple beauty of a couple in their eighties quietly enjoying life and the people around them. In some ways it was a contrast to the hurried, results-oriented mindset that was governing my day. I love my job and I love keeping score and working hard. But sometimes I need a reminder to chill out.
1. Give more away. Last week I ate lunch alone at the local bowling alley (en route between two meetings.) I ordered the all-you-can-eat soup and salad. When I told the server, after I finished, that I wasn't going for extra rounds, she smiled and startled me. I sensed a freedom in her eyes as she asked if she could bring me an ice cream sunday at no charge instead. This wasn't standard "need to" company policy. It was unnecessary generosity and it brought both of us joy.
2. Focus on others. Dale Carnegie's two most famous books, How to Win Friends and Influence People and How to Stop Worrying and Start Living, share a common point of view. When you're self-absorbed, good luck strengthening relationships, gaining cooperation, leading others and being emotionally healthy. When we try honestly to appreciate others, despite their faults, and help them get what they want, we often achieve a helpful state of self-forgetfulness.
3. Take declarative action. Sometimes we benefit from sending ourselves a message through a bold, decisive action. To leave the cell phone in the back seat, politely fire a client, leave work to exercise, drive below the speed limit or write a big check to a charity, we send ourselves a clear message: THIS DOES NOT OWN ME. Releasing our grip on something that may be draining our energy and joy can be a defining act of strength and a reminder of what's most important.
Please let me and other readers know where you've let go or where you could!
Comments
comments