Inspiration to Meet the Fears of a New Year
---
What risks and challenges will you face in the new year, and how will you respond?
Like all of us, my colleague Pat Griffin has been broken several times in his life. The hardest might have been seven years ago when he moved his family from Iowa to Montana to start a consulting practice and purchase the license to represent Dale Carnegie Training in that area.
Like many courageous entrepreneurs, Pat made an educated wager on the future success of his business, using much of his life savings. The stakes couldn't have been higher, and the environment was difficult, to put it mildly. I remember him messaging me late into the nights as he battled the Great Recession, competition from his predecessor and life's personal challenges. Imagine starting a company that provides performance training and coaching (which is too often viewed as a luxury item in difficult times) in the third least populous state in the U.S. just as the unemployment rate doubles.
It didn't work. Pat lost everything.
Many would flounder in defeat or self-medicate away the pain when faced with a similar situation. Not Pat. Instead, he moved to his hometown in Iowa to give back to the community while offering to take on a more specialized role doing performance training and coaching with our team.
Pat told me that one of the most difficult tasks in moving back was relocating his entire woodworking shop. I recently toured the massive machines in his garage, and he showed me this: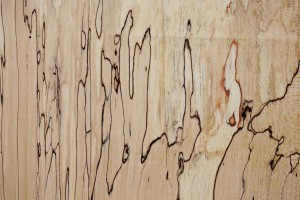 "It's a piece of wood that was infected with a fungus while it was growing and is now stable and polished. Isn't it beautiful?"
Not only was I stunned at the beauty, the metaphor was inescapable.
Because the value Pat is creating is dramatic.
He works and thinks like an owner. He elevates the play of all of his teammates. He handles with excellence the most complex and high-stakes client work that we do. He was broken, but he has emerged more intensely then ever before.
The metaphor applies to you and me, too.
This year will bring risk, challenge and heartache. It just will, because it's life.
Rather than fear it, worry about it or avoid it, what if we embraced it?
Seeing Pat in action each week is a reminder that everything broken, rotten and lost can be redeemed into something indescribably beautiful.
What is your greatest fear for 2015? Are you ready to embrace it?
Comments
comments