Forget Yourself to be a Better Public Speaker
---
When I rowed crew in college, the races (and practices) were punishing. From the moment we touched the boat on land to the moment we put it back into the rack, the one thing we listened to was the instructions of the coxswain. He told us what to do and how to think. It not only created a unified focus, it quieted the other voices of pain, fear and anxiety that come with that sport.
Recently, as I was getting set to deliver several large, high-stakes presentations, those days of rowing crew came to mind.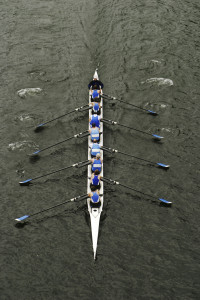 I still get nervous about public speaking. I coach people on presentation skills, and I do a lot of presenting in my job, but I still feel the nervous energy, and I still sometimes get short of breath. To this day, I'm haunted by memories from early in my career of panic attacks in corporate conference rooms.
Those memories were acutely sharp as I faced my upcoming high-stakes presentations. So to calm my nerves and increase my impact, I continuously reminded myself of this one thing:
It's not about you. It's about the audience. Don't ask what you want out of this. Ask what they need from you.
When I present in front of groups, I need one clear message in my mind to create focus and quiet the voices of pain, fear and anxiety. Paying attention to this one thing is like paying attention to my coxswain during a race.
It's not about you.
This call to self-forgetfulness relaxes me and allows me to shift from performance to presence. It relaxes my breathing and regulates my pace, allowing me to be in the moment. I can be spontaneous, emotional, powerful and flexible—whatever the group needs that I can give. Based on what they need, I consider how I can impact what they are thinking, saying, doing and feeling.
It changes the perspective. It's about, as Dale Carnegie says, "try[ing] honestly to see things from the other person's point of view."
What presentation do you have coming up? Is there an important meeting on the horizon where you'll want to make sure you have a voice?
To have impact, be self-forgetful. Focus on this one thing:
It's not about you. It's about the audience.
Only then can you allow yourself to go with their flow.
Comments
comments