Feeling Stuck? How to Get Traction to Get Growing
---
Last week, I introduced a four-step process for growth that I've seen work effectively in a variety of situations. But I realize taking the steps is often easier said than done, particularly when big obstacles stand in your way.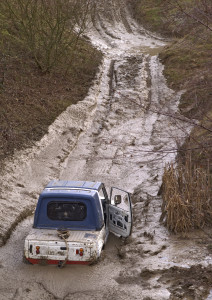 That was the situation Beau Garrett faced four years ago. He'd just taken on the role of Director of Regional Sales for the lowest performing of his company's 25 North American regions. For several years, this region had been stuck in mediocrity dealing with challenging environmental conditions.
Fast forward to today: Beau's team has since posted double-digit increases in growth and profitability and has moved from last place to seventh in the system. Even more impressive, on employee surveys they are 10 to 20 points ahead of the next best region in job satisfaction, belief in the organization and relationships with immediate managers.
The environmental conditions haven't changed. So what did they do to get unstuck?
It takes traction to grow. Here's how Beau's team used the equip, engage, execute, extend approach to get a strong foothold and climb to new heights:
They replaced 30% of their people with team members who are equipped to succeed and believe in the mission. Beau developed a brand and identity— "Northern Lights"— to unify the team, and members proudly use a professional logo on their email signatures. And, he says, he communicates the vision "well past being tired of saying it."
Making meaningful connections is an external commitment as well. With customer-centricity their strongest value, they train and coach to always be on the customer's agenda, totally focused on engaging with them and their needs. They lead by listening not by talking.
They have moved fast to execute effectively so they can take advantage of industry headwinds. To succeed in any industry, Beau believes "you have to penetrate the establishment." Because people access healthcare today through larger systems and institutions, Northern Lights has placed high priority on penetrating those structures. That means they plan, work relentlessly and make results visible to all so everyone is accountable.
They're now extending to healthcare providers that have been viewed as "untouchable" due to the barriers within large integrated delivery networks or because of non-solicitation policies. Beau has trained his team to be successful working with customers virtually, and they're now conducting meetings using sophisticated virtual platforms that allow two-way visual, vocal and written dialogue. The result? They're reaching places no one else is even considering.
Don't be a victim of your circumstances. Whether you lead an organization, a team or yourself, consider how you could get traction to get beyond your hurdles and grow like Beau.
What's the biggest obstacle that's standing between you and growth right now?
Comments
comments